PUBLIC SERVICE ANNOUNCEMENT
The Office of the Supervisor Alton Joe Shepherd is notifying the Constituents of Apache County District 2 that the District 2 County Roads Department is actively addressing the current monsoon events throughout District 2. The Public is asked for their patience and understanding as the road crew is working to repair damaged roadways caused by the recent and current monsoon events. Apache County District 2 Road crews will be working throughout the weekend.
Calls for service will be assessed and prioritized based on severity and the level of services of each request. Furthermore, we are only addressing County roads throughout District 2 at this time. For non county roads, we kindly ask that you contact your local Chapter, NDOT (505) 371-8300, or BIA Roads (928) 729-7218
IF AN EMERGENCY PLEASE CALL 911 or the Navajo Police Department at (928)871-6111
PLEASE CALL GANADO HEADQUARTERS @ (928) 755-3881 TO MAKE REPORT FOR ANY FLOODINGS ON COUNTY ROADS OR FLORA NEZ @ (505) 814-9798 
Due to COVID-19
Apache County District 2 Road Yards in Ganado and Fort Defiance will be taking precautionary steps for our staff and community members health and well-being. All visitors are prohibited from entering both offices and shops. If you have any questions or concerns, please call (928) 755-3881.
BURIAL ASSISTANCE - New Fiscal Year
Apache County District 2 will be increasing the fee for Burial Assistance to $150.00. Starting July 1, 2022. If you may have any questions please don't hesitate to contact Ganado Headquarters at 928-755-3881
2020 Census
Why you should participate in the count – "The census provides critical data that lawmakers, business owners, teachers, and many others use to provide daily services, products, and support for you and your community. Every year, billions of dollars in federal funding go to hospitals, fire departments, schools, roads, and other resources based on census data."
Additional 2020 Census Information
Contact Number: (1-844-330-2020)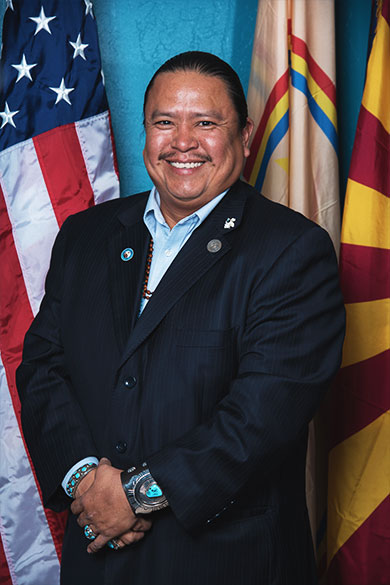 Alton Joe Shepherd
From road maintenance to gathering information from Chapters, we believe being apart of the community is the best way to evolve our services for District 2.